After dropping a 4-3 thriller to Ohio State earlier in the year at the National Indoors, Texas reversed its fortune today and took out #11 Ohio State 4-1 in a match that the Horns seemed in control of just about the entire way. Ohio State was 15-3 in doubles coming into this one but Texas got the point by winning at 2 and 3 by scores of 6-4 and 6-2.
With the nearly unbeatable Soren Hess-Olesen at 1, Texas knew it had at least 1 point in the bag and Soren quickly delivered that point with his 17th consecutive win with a 6-1, 6-3 thrashing of Chris Diaz. The Buckeye junior had one opening in the match after going up 2-0 in the 2nd but Hess-Olesen came back and won 6 of the next 7 games to close it out.
Ralf Steinbach would get Ohio State on the board at #5 singles with a 7-6(4), 6-1 over Nick Naumann. Naumann had 3 chances to take the opening set when Steinbach served at 5-6, 15-40 but Steinbach forced his way to the net on each of the 3 points and managed to put 2 away with Naumann going long on a lob on the other. In the 1st set tiebreak after Steinbach got the early mini-break to go up 1-0, Naumann got overruled on a Steinbach serve, which happened right in front of the chair, and Naumann never really seemed to recover.
Clement Homs would extend the Texas lead to 3-1 as he closed out Kevin Metka 6-4, 7-6(4) at #6 singles Homs broke Metka early in the 1st set and rode that break throughout the set. Metka jumped out to a 3-0 lead in the 2nd and would serve for the set up 5-3 but on the deciding point Homs put a volley down at Metka's feet and the Buckeye senior was unable to scoop it up which put it back on serve. Homs jumped out to a 4-1 lead in the tiebreak but Metka won the next 2 on the Homs serve to pull within 4-3. Metka's usually reliable volley let him down on the next point as he pushed one well long and 2 points later Homs smacked a forehand winner down the line to finish it off.
Less than 15 seconds later the match would be over as Adrien Berkowicz would close out Hunter Callahan 7-6(3), 6-3 at #3 singles. Callahan had his chances in the opening set and in fact served for the set twice up 5-4 and 6-5 but he just couldn't close it out. Berkowicz dominated the tiebreak and for the most part the 2nd set.
The other 2 matches were abandoned with #2 on serve in the 3rd and Texas up a set at #4 and on serve in the 2nd.
Key stat of the match: Texas won all 4 tiebreaks
Texas
recap
Ohio State
recap
FYI, the number beside the player's school is the player's Universal Tennis Rating as of March 14th. For more details about UTR check out their
website
.
#8 Texas 4, #11 Ohio State 1
03/17/15 at Austin, TX (Caswell Tennis Center)
Singles competition
1. #2 Soren Hess-Olesen (UT 15.01) def. #44 Chris Diaz (OHST 13.99) 6-1, 6-3
2. #52 Lloyd Glasspool (UT 13.86) vs. #28 Mikael Torpegaard (OHST 13.96) 4-6, 6-4, 3-3, unf
3. #60 Adrien Berkowicz (UT 13.78) def. Hunter Callahan (OHST 13.89) 7-6(3), 6-3
4. George Goldhoff (UT 13.73) vs. #114 Herkko Pollanen (OHST 13.54) 7-6(6), 4-3, unf
5. #68 Ralf Steinbach (OHST 13.90) def. Nick Naumann (UT 13.94) 7-6(4), 6-1
6. Clement Homs (UT 13.62) def. Kevin Metka (OHST 13.95) 6-4, 7-6(4)
Doubles competition
1. #12 Kevin Metka/Ralf Steinbach (OHST) def. #35 Lloyd Glasspool/Soren Hess-Olesen (UT) 6-1
2. Adrien Berkowicz/George Goldhoff (UT) def. Herkko Pollanen/Mikael Torpegaard (OHST) 6-4
3. Nick Naumann/Michael Riechmann (UT) def. #34 Hunter Callahan/Chris Diaz (OHST) 6-2
Match Notes
Ohio State 13-6; National ranking #11; Regional ranking #2
Texas 13-2; National ranking #8; Regional ranking #2
Order of finish: Doubles (1,3,2); Singles (1,5,6,3)
Here's an interesting doubles formation that you don't see too often - one guy is serving and the other is behind him and it looks like he's in position to return serve.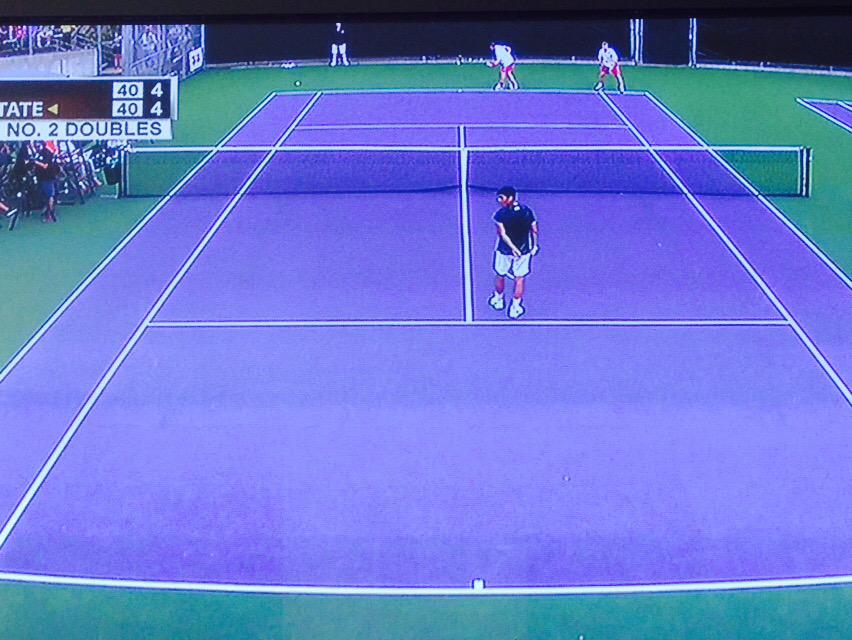 _______________________________________________________
Texas Tech ran its record to an impressive 15-4 with a nice road win at Notre Dame. The match came down to #6 singles which was the only one to go 3 sets and it was Texas Tech freshman Connor Curry getting it done 6-3 in the 3rd.
"First of all, it was just another incredible effort by our guys," said Red Raider head coach Tim Siegel. "After losing the doubles point, you saw this team rally back to beat a really good Notre Dame team on their home court. This Notre Dame beat No. 14 Northwestern and No. 31 Oklahoma State and lost a close match to No. 2 Illinois."
#24 Texas Tech 4, #36 Notre Dame 3
Mar 17, 2015 at Notre Dame, Ind. (Eck Tennis Pavilion)
Singles competition
1. #22 Quentin Monaghan (ND 14.38) def. #43 Felipe Soares (TT 13.68) 7-6(3), 6-3
2. Hugo Dojas (TT 13.51) def. Eddy Covalschi (ND 13.11) 6-3, 6-4
3. Alex Sendegeya (TT 13.48) def. Josh Hagar (ND 13.73) 6-2, 6-1
4. #109 Jolan Cailleau (TT 13.39) def. Eric Schnurrenberger (ND 13.47) 6-2, 6-3
5. Alex Lawson (ND 12.80) def. Francisco Zambon (TT 12.85) 6-4, 6-4
6. Connor Curry (TT 12.80) def. Nicolas Montoya (ND 12.46) 2-6, 6-1, 6-3
Doubles competition
1. #8 Billy Pecor/Alex Lawson (ND) vs. #24 Felipe Soares/Hugo Dojas (TT) 5-4, un
2. #14 Eddy Covalschi/Josh Hagar (ND) def. Alex Sendegeya/Jolan Cailleau (TT) 6-3
3. Quentin Monaghan/Dougie Barnard (ND) def. Connor Curry/Francisco Zambon (TT) 6-4
Match Notes
Texas Tech 15-4; National ranking #24
Notre Dame 8-6; National ranking #36
Order of finish: Doubles (3,2); Singles (4,3,5,2,1,6)
T-2:34 A-40
_______________________________________________________
Utah re-entered the ITA rankings today but they'll likely re-exit them next week after Loyola Marymount moved its record to 7-6 with a 4-1 mild upset. Interesting note: LMU had the higher UTR on each of the 6 courts so it's hard to call it too big an upset.
Loyola Marymount 4, #72 Utah 1
Mar 17, 2015 at Los Angeles, Calif. (LMU Tennis Center)
Singles competition
1. Charles Boyce (LMU 12.95) def. Cedric Willems (UTAH 12.85) 7-5, 4-6, 6-2
2. Errol Smith (LMU 13.14) vs. Parker McGuiness (UTAH 12.77) 6-1, 6-7(4), 3-2, unf
3. Felix Van Kann (LMU 12.40) vs. Freddie McGeehan (UTAH 12.06) 1-6, 6-2, 2-3, unf
4. Cristobal Rivera (LMU 12.85) def. Matt Cowley (UTAH 12.49) 6-2, 7-6(5)
5. Joat Farah (LMU 12.20) def. Santiago Sierra (UTAH 12.06) 6-4, 7-5
6. Johan Jonhagen (UTAH 11.75) def. Othar Kordsachia (LMU 12.29) 6-2, 6-1
Doubles competition
1. Errol Smith/Joat Farah (LMU) def. Cedric Willems/Matt Cowley (UTAH) 6-3
2. Charles Boyce/Cristobal Rivera (LMU) def. Parker McGuiness/Jamey Swiggart (UTAH) 7-6 (7-4)
3. Johan Jonhagen/Santiago Sierra (UTAH) def. Othar Kordsachia/Luke Bohuslav (LMU) 6-4
Match Notes
Utah 9-6; National ranking #72
LMU 7-6
Oklahoma stays at #1 in the ITA rankings for the 3rd week in a row and for the 4th time in the last 5 weeks. OU's win last Tuesday over Virginia kept it atop the rankings because had they lost Illinois would have moved to #1. Oklahoma's top 5 best wins are over #3 Baylor, #4 USC, #9 Virginia, #10 North Carolina, and at #11 Ohio State. The Sooners also own wins over #12 Wake Forest, #13 Ole Miss, #14 Northwestern, plus a 2nd win over #10 North Carolina so that means they have wins over everyone ranked from 9-14 which means they are positioned very well for the next several rankings where an additional best win is added each week starting next week. Oklahoma also gets an opportunity to pad its resume this weekend when they head to Indian Wells for the BNP Paribas Collegiate Challenge and it's likely that they'll face either #3 Baylor or #4 USC in the Championship on Sunday.
Illinois moves up 2 spots to #2 on the strength of a pair of Top 10 road wins last weekend over Texas and Texas A&M. The Illini's best 5 wins for this week are the road wins at #3 Baylor, #8 Texas, and #7 Texas A&M along with home/neutral court wins over #10 North Carolina and #11 Ohio State. Illinois dropped its match yesterday to #18 TCU so that loss will count against them next week and with Illinois now idle until March 27th that means it's points average will probably drop slightly with its 6th best against #14 Northwestern.
Baylor drops 1 spot to #3 despite picking up a road win at Ole Miss last Tuesday. BU's 5 best wins for these rankings are #6 Duke, #9 Virginia (2X), #19 UCLA, and the road win over #13 Ole Miss. Baylor is positioned fairly well for next week when the 6th best win is added because they currently have wins over #18 TCU and a road win at #20 Tulsa sitting in the bag plus the Bears could face #4 USC and potentially #1 Oklahoma this weekend in Indian Wells.
USC is up 1 spot to #4 after adding a win over then #14 UCLA to its resume. The Trojans 4 other best wins are against #5 Georgia (2X +1 was at UGA), #11 Ohio State, and #15 Florida. USC's 6th best win is over #30 San Diego so the Trojans need a good win or two this weekend to stay in the top 5. USC plays #20 Tulsa on Friday in Indian Wells and if they win that one they'll likely face #3 Baylor and a win over them would likely have the Trojans facing #1 Oklahoma in the final so this a big weekend of tennis for SC.
Georgia falls 2 spots to #5 even though they picked up a pair of road wins at Tennessee and Kentucky. In years past those would have been a pair of Top 10 wins but both programs are down a little this year. Georgia's 5 best wins are against #2 Illinois, #7 Texas A&M, #19 UCLA, #29 Columbia, and a road win at #15 Florida. Georgia's only ranked opponent this week is #47 South Carolina however the Bulldogs will add a previous win over #23 LSU to its list for next week's rankings.
Duke holds firm at #6 after playing just once last weekend against unranked Miami. The Blue Devils 5 best wins for these ranking are road wins over #2 Illinois and #14 Northwestern and home/neutral wins over #12 Wake Forest, #13 Ole Miss, and #18 TCU. Duke hosts #37 NC State and #12 Wake Forest this weekend so they'll have a chance to possibly move up a spot if they can sweep both of those matches.
Texas A&M comes up to 2 spots to #7 after beating Vanderbilt before losing to Illinois. The Aggies 5 best wins are over #1 Oklahoma, #11 Ohio State, #17 Vanderbilt, #30 San Diego, and at #47 South Carolina. Texas A&M hits the road this weekend to face #35 Mississippi State and #60 Alabama so the Aggies need wins over both to help itself for next week. With South Carolina and Vanderbilt both dropping this week, Texas A&M will likely fall a few spots next week because the Aggies 6th best win will at best be against somebody ranked outside the top 30.
Despite the loss to Illinois, Texas holds firm at #8 largely due to a few of its best wins making big rises from the previous week (MN+12, UNC+7). The Longhorns 5 best wins are over #10 North Carolina, #12 Wake Forest, at #20 Tulsa, #25 Minnesota, and #29 Columbia. Texas has a chance to add a big 6th best win when they host #11 Ohio State this afternoon. Their current 6th best win is over #27 Florida State though since Columbia dropped down in the rankings they'd be the 6th best with FSU the 5th best.
Virginia drops 2 spots to #9 after coming up short in Norman against #1 Oklahoma. UVA's best 5 wins are #10 North Carolina, at #12 Wake Forest, #18 TCU, #26 Louisville, and at #37 NC State. Virginia won't get much of a chance to move up because the only ranked team it plays this week is #36 Notre Dame though at least its on the road.
North Carolina moves up 2 spots to #10 despite only picking up an unranked win over Miami last week. UNC's bump is largely due to Virginia Tech making such a large rise from the previous week with the Hokies coming up 29 spots. UNC's 5 best wins are over #16 Virginia Tech, #19 UCLA, #25 Minnesota, #27 Florida State, and #37 NC State. UNC's only match this week is on the road at #26 Louisville so a win there would make that the 6th best win for next week.
Men's National Team Rankings

Administered by the ITA

NCAA Division I Tennis

March 17, 2015

Rank

Avg

School

Previous Week

1

83.79

University of Oklahoma

1

2

82.89

University of Illinois

4

3

77.90

Baylor University

2

4

72.95

University of Southern California

5

5

71.42

University of Georgia

3

6

69.44

Duke University

6

7

63.82

Texas A&M University

9

8

59.11

University of Texas

8

9

58.64

University of Virginia

7

10

52.46

North Carolina

12

11

51.38

Ohio State University

10

12

48.32

Wake Forest University

19

13

44.75

University of Mississippi

13

14

43.37

Northwestern University

16

15

43.13

University of Florida

18

16

41.13

Virginia Tech

15

17

40.87

Vanderbilt University

11

18

40.84

TCU

17

19

40.48

UCLA

14

20

35.50

University of Tulsa

29

21

35.34

University of South Florida

20

22

34.60

Harvard University

21

23

31.94

Louisiana State University

33

24

31.38

Texas Tech University

34

25

30.95

University of Minnesota

22

26

28.86

University of Louisville

28

27

28.09

Florida State University

24

28

27.14

California

26

29

26.42

Columbia University

23

30

25.91

University of San Diego

31

31

25.45

Oklahoma State University

32

32

25.36

Princeton University

27

33

24.83

Drake University

25

34

23.82

SMU

47

35

22.97

Mississippi State University

42

36

22.84

University of Notre Dame

36

37

20.54

North Carolina State

37

38

20.24

San Diego State University

35

39

19.80

Indiana University-Bloomington

30

40

17.94

University of Tennessee

55

41